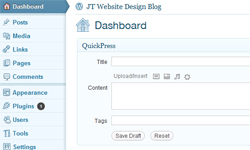 WordPress 3.2 "Gershwin" was released last week, and I must say I am loving the new look! As far back as  I can remember, every WordPress update has kept the same functional appearance. But with 3.2 it has been completely upgraded to a cleaner look, where bulky boxes and rounded corners give way to straight lines, varying gradient shades, and a use of the entire screen's space – making it a more efficient and functional design. What else is new in 3.2?
Not only did they improve the look, they've improved functionality too. Here are a few of the cool features:
Fullscreen Post Writing: That's right, now you can enter "zen-mode" and work on your post in a full-screen editor, which removes all the distractions such as menus and widgets.
Smarter Updates: Only files that have been changed will be replaced in the latest updates, instead of replacing every file. That'll result in much faster updates on every platform. Now, if only we could add a feature to block or merge updating of modified files. *cough*
Discontinued Support for IE6: Ok, yes this is removal of a feature, but good riddance! Thank you WordPress, for acknowledging that IE6 is dead. If you are reading this and thinking, "Well I use IE6". Then stop reading right now, and go upgrade your browser please!
Admin Bar Features: So they've improved the admin bar a little bit. I can't get excited about this one, because I don't really like using the admin bar and I've  turned mine off since it gets in the way.
Cleaner and Meaner: The code is cleaned up and fully optimized so it loads much faster than the older versions. This makes your time in the dashboard more efficient and enjoyable.
If that wasn't enough, they've included an HTML5 Twenty Ten theme to keep with the changing times. They've promised to update the theme every year, and it looks like they're sticking to it. The new theme also includes a slider to showcase more of your posts in the header… and not only that, it's mobile compatible too!
So, if you haven't upgraded to 3.2 yet, what are you waiting for?
Latest posts by Jackie Taferner
(see all)