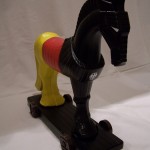 A powerful "Clampi" Trojan is infecting millions of computers around the world. It embeds itself in your computer, undetected by many Anti-virus programs. It's main goal? To spy on 4,500 websites including financial institutions and others that would hold your personal data.
The Clampi virus detects when you visit one of these sites and records your keystrokes to determine your login and password, then sends it to a record database where it can be used to steal your personal information and identity.
So, what can you do? I'd say it would be good measure to reformat your hard drive to remove all viruses and make sure it's clean – how to reformat? There are a couple of options:
1) DIY: http://www.ehow.com/how_2250282_reformat-hard-drive.html
2) contact a computer geek and pay them to reformat it for you. If you're unfamiliar with the process, it's probably your safest bet.
It's also very important that you keep your anti-virus up to date and scan on a regular basis. However, this particular bug seems resistant to being found or removed. So, just be careful what sites you visit. Don't visit ::ahem:: questionable websites. Don't click on links in e-mails from people you don't know. Don't install software from untrusted software companies, or any that you might be unsure of.
The best way to protect your computer is to keep it from getting infected in the first place.
By: Professional Custom Web Design in Southern California | Jackie Taferner | JT Website Design – JT Website Design specializes in professional custom website design, flash animation, ecommerce website services, and more. Located in Southern California (SoCal).
Latest posts by Jackie Taferner
(see all)