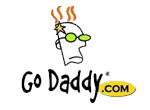 On Monday, September 10th, millions of websites were down for several hours due to network issues at domain registrar and hosting giant GoDaddy. It is suspected that hackers were to blame, and that this was a possible denial-of-service attack (DDoS).
In fact, a person affiliated with the "Anonymous" hacking group claimed credit for the outage via their Twitter account @AnonymousOwn3r. However, GoDaddy's CEO, Scott Wagner, has insisted that there were internal network failures that resulted in corrupted router data cables. He released a statement today that "At no time was any sensitive customer information, including credit card data, passwords or names and addresses, compromised."
Although GoDaddy is one of the most popular webhosts, it is considered by many in the IT community to be a low-quality hosting company. Still, the allure of hosting with them lies in the fact that you can get your registration and hosting all in one spot – at a discounted price. But you get what you pay for, and that certainly rings true in all forms of technology including web hosting.
On that note, GoDaddy has extended a sincere apology to all of its customers and is providing a one month credit for all who are hosted on their servers. A free month of hosting is the least they can do for their customers. Let's face it, many business owners lost thousands of dollars in revenue during the outage. Online sales that they can't get back; potential customers that have gone elsewhere with their business.
So an important lesson is learned here. Even the big fish are vulnerable to outages; and possibly even more so, since their networks are over-stressed and they are tempting targets for hackers. Choose your hosting company wisely: you're putting your success in their hands, and you need to trust that your website will be up and running when it really counts.
Latest posts by Jackie Taferner
(see all)