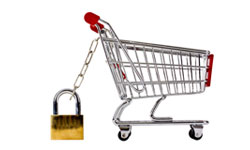 E-commerce sites are getting more popular all the time – for consumers of course, but also for hackers. In light of recent attacks on WordPress and InMotion users, it's clear that cybercrime is on the rise. If you are an e-commerce website owner, you have a greater responsibility than other site managers to protect your users from cybercrime.
Why, you ask? Because unlike sites that solely exist for marketing purposes, your site contains the private cardholder data of your customers. If a hacker gets a hold of that information, your customers could become victims of identity theft and credit card fraud in an instant. Don't be fooled: Not all hackers are adventurous whiz kids who just want the bragging rights that go along with successfully breaking into networks. Many of them are actually malicious criminals whose larger-than-life egos have them believing they can make off with your customer's credit card information and use it as they please.
If a security breach happens to your site, your company stands to lose a lot: civil suit and revocation of credit card processing rights are common penalties. Not to mention, customer loyalty will be dropped if your customers find out the information they entrusted to you has been violated and stolen.
To prevent a catastrophic breach at the hands of dangerous hackers, e-commerce site owners should upgrade their sites and secure their servers whenever the opportunity arises. JT Website Design offers the security upgrade services e-commerce owners need, like PCI Compliance and Zen Cart shopping cart upgrades that can help keep an e-commerce site running smoothly, while adding an extra layer of protection against dangerous hacker attacks. To learn more about updating e-commerce security measures on your site, contact us today.
Latest posts by Jackie Taferner
(see all)