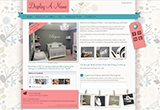 JT Website Design is proud to launch the latest addition to our family of client websites.
Company: Display A Name
Description: Custom 3-D acrylic wall lettering for nurseries and kid's rooms
Website: www.displayaname.com
What a cute and fun website! This bundle of joy (sorry, couldn't resist) is an e-commerce site offering premium wall decor for kid's rooms. Customers can order custom acrylic wall lettering and preview their text, colors, and fonts right on the screen before they order.
Not only does Display A Name make a beautiful custom product, they're also giving back to the community by donating a portion of each purchase to a charity that serves children. Now that's a win-win situation for everyone!
We had fun working on this website, and wish Display A Name a successful launch in their new business venture. Cheers to new beginnings!
Latest posts by Jackie Taferner
(see all)