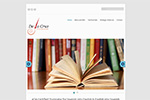 Introducing De La Cruz Translations, a Riverside county based translation service company.
Company: De La Cruz Translations
Description: ATA-Certified Translator for Spanish into English & English into Spanish
Website: www.delacruztranslations.com
Jennifer De La Cruz has been providing full document and transcription services since 1999. And now, with a brand new website, her translation business has a fresh new face on the web.
We highly recommend checking our her blog or following her on Twitter. Her way with words is captivating and the posts are just fun to read. Feliz lectura!
Latest posts by Jackie Taferner
(see all)