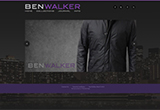 Ben Olia, CEO of Benecci Corporation in collaboration with James Benton, launch the BenWalker outerwear brand for Fall 2013.
Company: Ben Walker Men
Description: Men's rugged and stylish outerwear
Website: www.benwalkermen.com
The new website reflects their brand image of modern style and urban utility. The collection is featured in an elegant fashion which captures the essence of the Ben Walker man: a no-nonsense man who expects a solid, intelligent outerwear solution.
James Benton leads the "Ben Walker" brand image, concept and marketing to the finest specialty and department stores in USA and Canada. This collection boasts high-quality pieces that are modern, clean and rugged with lots of understated style.
JT Website Design played an integral part in developing the brand image with website design, print advertisements, and newsletter campaigns. James Benton brilliantly guided the brand based on the customer perspective, and the resulting high-quality collection and design speaks for itself.
We thoroughly enjoyed working with Ben Walker and Benecci Corporation on this collaborative effort, and look forward to building the brand well into the future.
Latest posts by Jackie Taferner
(see all)