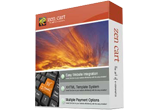 If you haven't upgraded your ZenCart e-commerce site to version 1.5 yet, now is the time to do so. The new version was released almost a year ago, and that means anyone still on 1.3.9 (or older) has very outdated software which can leave your site open to security breaches and compromised customer cardholder data.
Here's a list of some of the upgrades included in ZC v1.5.0:
PCI Compliant (PA-DSS Certified)
Password reset every 90 days for better security
Timezone support
Admin panel SSL support
Improved "Who's Online" stats
Paypal processing upgrades
Improved Customer search
Fix tax calculation
ISO country updates
Fix email error handling
Multiple other bugfixes
If you need assistance in upgrading your store, please check out our Zen Cart upgrade package.
Jackie Taferner has over 15 years experience in website design and development. Jackie has a wide range of expertise, from PHP code development to marketing strategy, and enjoys working on challenging, creative, and unique projects.
Latest posts by Jackie Taferner (see all)