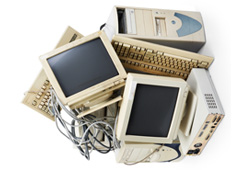 It's Spring! Time to get out the dust mops and clean all the junk from your garage and closet. But why stop there? Many people do not consider the digital clutter that resides in their email boxes, and yes, their websites. It may be tough to conceptualize why this is so important, but I'm going to show you why – and how – to get your digital world in order.
Let's start with the reasons why spring cleaning is important in our own homes. I will spare you any gory details, but we essentially want to stay clean and healthy. And on a more philosophical level, it allows us to sweep out the old stuff and make room for positive change in our lives. "Out with the old, in with the new" they always say.
Why would a website be any different? Many people just want to "set it and forget it", but that should not be the case! Like any marketing tool, we need our website to grow with us. It's easy to let a website fall lower on the priority list and forget that it should reflect who we are as a business/person – here and now.
If that doesn't convince you to clean up your website, this will: Cyberspace attacks are more prevalent than ever, and a hacker's main goal is to destroy websites with spam advertisements, or even worse, steal personal information. The most common target? Websites that are neglected, where attacks are likely to go unnoticed. If you take the time to review your website, you are being proactive against hackers, and that is a great thing.
Depending on the type of website you own, there are different ways to "spring clean". For example, you would need to be more thorough on an e-commerce store rather than a personal website. Ideally, you would do all of these things on a regular basis, but at the very least, please consider them every year!
Here are some things you can do to clean and protect your website:
Change your password. I bet you've had the same password for the last 5 years. Or, you've shared that password with a few colleagues or web designers over the last year or two. Are you still in contact with that person, and do you trust them? Do you know if their email account was hacked, and perhaps the information you entrusted to them fell into the wrong hands? Change your password!
Scan for viruses. There are lots of great tools out there for virus scanning. FREE tools can be great, but make sure they are reputable.
Check for unsavory content. A simple Google search can do wonders. To narrow the search to your own website, simply search: "site:mywebdomain.com unsavory word". I'm not going to list words here, but use ones that you would typically find in your email spam box.
Backup. Backup. Backup. Can't stress this enough – make a backup of your entire webserver (emails, website, databases, etc) and keep it safe. Who knows what could happen if you don't? Keep multiple formats and store hard copies in different locations (home, office, bank deposit box).
Upgrade. Whether you use WordPress, Magento, Zen Cart, etc… upgrade to the latest version. Ask your web host to upgrade their server software as well.
De-clutter. Are there files on your webserver that don't need to be there? Perhaps you used it to backup your personal computer when you were having it reformatted. Or perhaps you had an old website that you wanted to save after launching a new one. If it doesn't need to be on your web hosting, then back it up and take it down! (see step #4 – you did backup, right?)
Functionality check. Is there anything on your website that's broken? Then fix it! You certainly don't want broken links or contact forms that don't work.
Review and revise. Review your website's design and page content. Does it convey the message you want to get across? If not, it's time to refresh and renew the way your site is perceived. Your website is your most powerful sales tool. Show it off!
If this all seems too much, don't be overwhelmed. There are hassle-free ways to get it done, such as hiring a professional that can do the job for you. But no matter what, try to make the effort because you can save yourself quite a headache down the road.
Jackie Taferner has over 15 years experience in website design and development. Jackie has a wide range of expertise, from PHP code development to marketing strategy, and enjoys working on challenging, creative, and unique projects.
Latest posts by Jackie Taferner (see all)