What is the difference between POP and IMAP? It may seem confusing at first, but I hope to demystify the concept for you. The main difference between the two is how you access your emails, and how they're stored on the server. Let's dig a little deeper.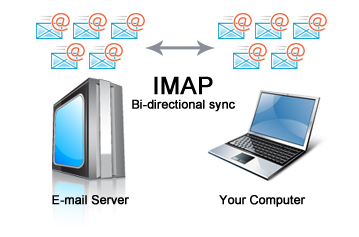 When using IMAP, your email client (Outlook, iPhone, Thunderbird, etc) will essentially mirror what is on the server. This means, all the emails will be saved on the server and your email client. If you setup folders and organize your emails in one email client, they will show up the same way on the server and your other email clients (if you use more than one).
Pros:
You can sync all of your emails (and organizational folders) to multiple devices, and always have a safe backup on the server.
Cons:
If you have limited space on your email server, that space will eventually fill up and you will be unable to receive new emails. Anyone that emails you would then receive an "undeliverable" error.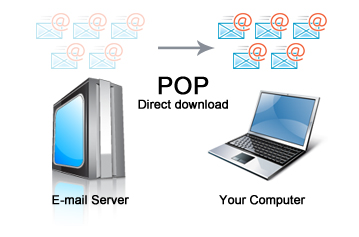 With POP, your emails are saved on the server until you download them onto your computer. Once you've downloaded the emails, they are deleted from the server and space is cleared for new messages to arrive. If you have limited space in your mailbox, or if you find yourself receiving "mailbox full" errors, this is generally the best option.
Pros:
You will never have a problem with a mailbox that is too full to receive emails. You won't have to worry about your server space, because the server is essentially "cleaned" every time you check your email.
Cons:
You won't have the benefit of syncing organizational folders between devices. You'll also need to take regular backups of your computer, because that is the only copy you have of your emails (ie. they are not backed up on the server)
Quick tip for POP users:
Although your emails won't sync like they do with IMAP, you can still download messages to multiple devices. Simply change your email client settings to "keep a copy on the server" for X number of days. That way, any emails you download on your computer would stay on the server until that expiration date, leaving them available to download onto your phone or other email client(s). You should set the number of days to as small a number as possible, while still leaving time to use all of your devices before the messages expire. For example, if you check email on your phone and computer daily, you can set it to 2 days. If you check email on your phone once a week, you should set that number to 8 days (maybe more if you want to be on the safe side).
Jackie Taferner has over 15 years experience in website design and development. Jackie has a wide range of expertise, from PHP code development to marketing strategy, and enjoys working on challenging, creative, and unique projects.
Latest posts by Jackie Taferner (see all)