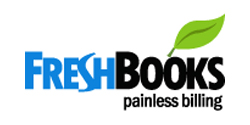 Well, we've finally done it- a simpler, faster, more efficient billing system. It has been a long time coming, and after much deliberation on invoicing options Freshbooks is the winner. So, what are the benefits to using this new system, and how will it improve the billing process for you, our valued client?
Track Invoices
See all of your invoices, past and present, all in once place. PDF or print invoices for your records with just the click of a mouse.
Account Overview
View outstanding balances and credits, payments, and project details. Retrieve detailed reports for any date range with up-to-date account statements.
Instant Payment Confirmations
Know instantly when we have received your payment – no confusion as to whether an invoice has been paid yet.
More Payment Options
With more payment options, it is easier than ever to send payment. Pay by Check, Paypal, Bank Transfer, and Credit Card (coming soon).
We hope this new system makes the invoicing process easier and more pleasant for all of our clients. If you have any feedback or questions, please feel free to contact us.
Jackie Taferner has over 15 years experience in website design and development. Jackie has a wide range of expertise, from PHP code development to marketing strategy, and enjoys working on challenging, creative, and unique projects.
Latest posts by Jackie Taferner (see all)