Now that tax time is here, we're all sorting out paperwork that the IRS requires for our annual tax return. It can be quite a hassle, but luckily when it comes to your website expense records, we've got your covered! Our convenient Freshbooks tool has full invoice history that will allow you to organize and record your expenses for 2012. Here's how to access this info.
1) Simply open your latest invoice by clicking the link in your most recent invoice email, and this will give you access to your full account history.
Or…
2) Click on the link below and enter your username and password. Can't remember your login? Click the 'Forgot username or password' link and enter the email address where you normally receive our invoices.
https://jtwebsitedesign.freshbooks.com/
Quick Tips
Once you are in the system, click the "Invoices" tab to see a full list of invoices.


You can easily sort invoices by date, dollar amount, or description by clicking the column header.


Or, search for invoices based on date, keywords, and other useful filters. For example, if you've been working with us for over a year (and we hope you have!), you can use the search tool to filter only your 2012 invoices like so:


To download your invoices in PDF format, check the boxes on the left and click "print".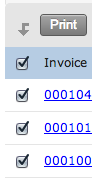 Click the "Account Statement" link to see a quick breakdown of your expenses and payment receipts.


You can "Print Statement" or "Export to CSV" using the buttons up top.


We hope you find this tool helpful. If you have any questions, don't hesitate to contact us!
Jackie Taferner has over 15 years experience in website design and development. Jackie has a wide range of expertise, from PHP code development to marketing strategy, and enjoys working on challenging, creative, and unique projects.
Latest posts by Jackie Taferner (see all)